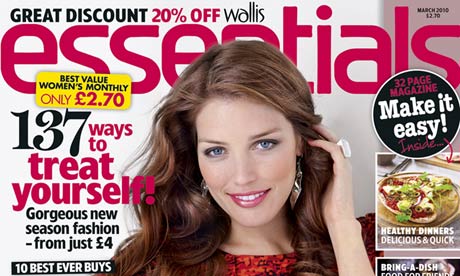 As teens we want to stay updated with the latest teen celebrity gossip right? Whose dating who, who did what, and the 'omg what did they wear?' right? So we either log on to Hollywood Teen TV Online or we go to our nearest news stand to purchase J14 or M magazine. But as we grow older we start to think about other things among the latest celebrity gossip. That's where Essentials Magazine comes into our lives.
Essentials Magazine is a practical lifestyle monthly for modern, suburban women – and is packed with fast and easy tips to make life easier, every day. It offers useful emotional and practical help and advice – great affordable fashion, best beauty buys and step-by-step guides, motivating health features and smart ways to be a savvy consumer. The 32 page unique 'Make It Easy' franchise – offers easy, mouthwatering food and gives practical, can-do tips and solutions for home, wellbeing, and new technology.
So when your older or maybe even know you're older you might want to make the switch to Essentials Magazine….. but just don't do it before you're 25!